25 Feb 2014
How to resolve mousewheel scroll / zoom issues in Google Chrome
Some of the latest plugins for Mice and Trackpads for Google Chrome don't quite work properly with gestures / scroll-to-zoom. Google Maps is a prime example – with a Logitech Mouse and Smooth Scroll enabled the Maps behave erratically zooming all the way in and out with any small mouse-wheel movements.
Currently the solution appears to be: disable your Chrome extensions for your Mice/Touchpad – for Example Logitech Set-point. Chrome appears to work fine without the extension enabled and Google Maps does not behave erratically.
For super-users there's some more advanced options like disabling scroll-zoom in Chrome all together but the solutions aren't that elegant yet. Hopefully Google and/or Logitech et. al. will come the party with updated software soon.
Updated Solution Confirmed working properly with Google Maps and Google Chrome:
Remove the Setpoint / Smooth-scroll plugin from Chrome (Uninstall it completely, restart Chrome)
Open the Logitech Setpoint Application (Hit windows and start to type "Mouse and Keyboard Settings" you will see it pop up)
Click on the "Pointer and Scrolling Settings" tab
Uncheck "Enable Smooth Scrolling"
Restart – problem is solved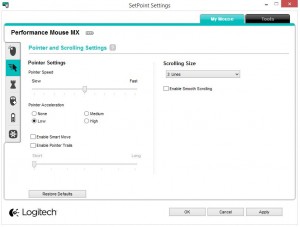 Comments